Eat me, Blogger.
I did not just buy more yarn.
Except, I totally did.
I should stay away from online yarn shops on Sundays. For some reason, Sundays are always when I go and order things I don't need. Anyway, it was on sale. I am at least good about only buying yarn when I am getting a good deal. I got 3 skeins of Euroflax sport weight linen in Cedarwood, which according to the intarnets is either brownish red or reddish brown. I am hoping for brownish red, but I can live with reddish brown. It will become a lacy cardigan of some sort. I've heard good things about this yarn, so I am excited, weee! Also a skein of Plymouth Royal Bamboo, in Coral, just to see what knitting with bamboo is like. I'll make a headband or something with it. As you can see, I'm back to my old colour habits. Oh, well. I'll knit with any colour yarn as long as it's red or coral!
Gah. I am becoming a stasher. Ohnoes! At least I have projects in mind, if vague ones.
In other news, I hate Blogger. Well, that's not news. I have always hated Blogger, for many reasons. But right now it's the comments thing that's driving me nuts. As in, I can't reply to them unless people have their email set to visible, which most people don't (and I can understand why). Sometimes I go to people's blogs and reply there, but it's so clumsy, and anyway I don't want to clutter people's blogs with "haaaay thanks for visiting me, now here is a reply that is a total non sequitur to anyone who reads your blog but not mine".
I love when people comment, and I want to be able to acknowledge those comments. If people took the time to comment, then I want to take the time to reply!
I can't run WordPress or Movable Type on my current web hosting plan. In fact, I can't run squat on my current web hosting plan, unless it doesn't require a database. This has been bugging me for awhile and maybe it's finally time to suck it up and go through the mess of switching web hosts.
So if anyone reading this is running WordPress, etc. on their own domain, I'd love recommendations for a reliable, inexpensive web host. (I saw several linked on WordPress's site that have everything I need for 7 bucks a month, which sounds fine to me – but I don't know anything about those hosts, so I'm hoping someone else does.) SAVE ME FROM THE TYRANNY OF BLOGGER! ALLOW ME TO REPLY TO COMMENTS AND ABUSE TAGS!
(Yeah, that's another thing, self-hosted Blogger blogs don't do tags/labels quite right. It saddens me that I can't abuse tags without making a big mess. I am compensating by tagging my projects on Ravelry with "thisprojectisouttogetme".)
This entry fails because it contains no pictures. So here is a picture of a giant kitten in a yarn shop: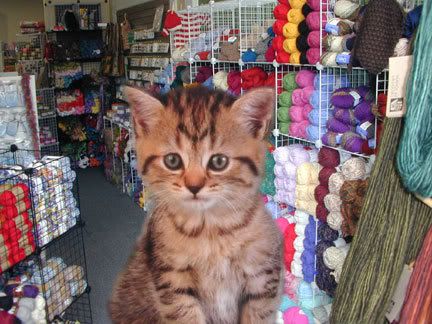 Sadly, it is not breathing fire or eating demons yet. I'll work on that.