November is Masochism Month
I usually do NaNoWriMo every November. I've done it for four years and have written some truly horrible and hilarious novels. I just opened up last year's novel, and it includes such chapter titles as:
The Case of the Missing Back Hair
Suck My Godly Cock!
In Which Nothing of Interest Happens
NinjaPirateZombieViking
The Inevitable Jello Orgy
Hippopotamus, Revisited
That is the sort of "great" "literature" I produce every November. But I'm not doing it this year, for a bunch of reasons that are mind-numbingly boring so I won't speak of them. It doesn't seem right to be doing nothing at all, though. November is Masochism Month! I need some ridiculous challenge that will make my life miserable!
So perhaps I should try this NaKniSweMo thing. I have two sweaters* that I want to make and already have the yarn for, right? The textured tunic and the Garnstudio jacket thing? I could be ready to start either one by November. But which one to make? Textured tunic would probably be the easier knit, but the jacket thing would be at a larger gauge and probably quicker. Hmm…
* As I typed "two sweaters", the universe laughed loudly at me.
But. Buuuut. There's always a but, and really it's more of an ass, in the "oh ass crap fuck ass ass ass!" sense. My pile of indecisive Silky Wool has crawled inside my head, not unlike a brain parasite. I was poking around on Ravelry and spotted this pattern.
Now, I don't want to make that sweater. Of course not, that would be too easy. But it gave me an idea. So I pulled out the sketchbook and drew up a little exercise in v-necks and asymmetry.
Hmm. Cute. Cute, right? Stockinette and moss stitch only, nothing more complicated that would melt into yarn poo. Just a little weird with the angles of the front panels. Okay. I could maybe make this. I could see this in Silky Wool. Good. Okay. Problem solved.
Poke poke poke, around the internets, for nothing in particular because NOW I KNOW WHAT I'M MAKING HA. Oh, look, the Winter 2007 Interweave Knits preview is up. Well, I'd better take a look, just in case there's something even more suitable for the Silky Wool. You never know…
Ha ha ha, sez the universe.
I went through the whole list, and nothing caught my eye. Until I got to the very last pattern. Rosemary's Swing Jacket.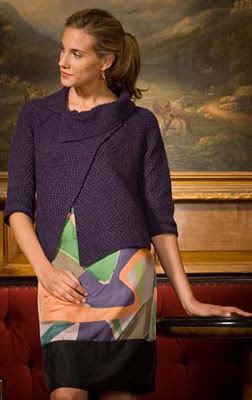 Well crap. That kind of reminds me of the Thing I sketched, except weirder and better. Moss stitch everywhere! Crazy asymmetrical front with a crazy asymmetrical collar! I wants it!
But, well, it's written for worsted weight yarn, so I'd have to do lots of The Math to make it work in Silky Wool, and it's shaped kind of weird, and the front panel doesn't look like it would stay put in Real Life, and the mag doesn't come out for awhile, and I don't know whether it's full of icky seaming and and and wait. WAIT. I am a fucking designer. A crappy wannabe designer, perhaps, but was I not already dissecting this sweater, trying to figure out the construction and what the hell the big collar was connected to and… I don't even need a pattern. I can make this right now. It's actually a really simple sweater, just with angled front panels and a collar that's attached to the back front panel then folded over the front front panel.
I can make that as a standard top down raglan cardigan, then pick up stitches at the neck and do a sort of asymmetrical (there's that word again) trapezoid-shaped collar. And I can change the bits I don't like. I can do one angled front panel and one straight one, because I like the contrast. I can make it more fitted. I can move the pointed bit of the front panel downwards and add a button. I can lengthen the sleeves and bell them a bit.
And best of all, since I am blatantly ripping off someone else's pattern, I will feel no obligation to write up a pattern for this thing, since it ain't my design. Yea!
What do you think, O Temperamental Pile of Silky Wool? Is that what you want to become?
I don't know about NaKniSweMo. Now there are THREE sweaters that want to be knit (not to mention my still-neglected Fifi), and I am no good at project monogamy. We'll see, I guess. November isn't November without a good healthy dose of masochism!