Can't sleep, chart'll eat me…
My completely unnecessary yarn order arrived yesterday. I guess I'm officially a stasher now. Is there an initiation rite to the Order of the Stash? Does it hurt? Does it involve The Paddling of the Swollen Ass… With Paddles?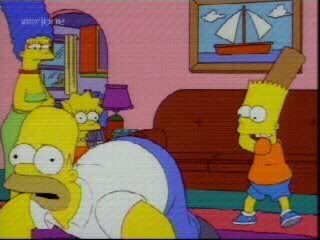 The Euroflax is definitely brown, not red. But it's a really pretty shade of brown, so I'm not too disappointed. I'd say that it seems to have a rosy glow from within, except that I'd clearly be insane. It's yarn. It doesn't glow. I'm just trying to convince myself that I don't mind that it isn't red, because it's MAGIC GLOWING YARN. Which it isn't. Shut up, brain. But it sure is purty.
And then there's the Plymouth Royal Bamboo, which is a strange little yarn. It's very soft and quite nice to look at, but it has sort of a flimsy, cheap feel to it. I'm not sure how well it's going to hold up to the mess of cables and lace I plan to put it through.
What mess, you ask? Well, this mess:
Guess what: I know nothing about charts. I have used one chart, ever, in my knitting life – a cable chart for Rusted Root. I certainly don't know how to chart things myself. So of course it seemed like a brilliant idea to chart an improvised headband design full of cables and lace and weird slip stitch edgings as my very first chart attempt. What could possibly go wrong?
Ha. I thought, oh, this will be a piece of cake. I just download a knitting symbols font, find a site with knitting symbol standards, and I'm set. Except, there are no knitting symbol standards. Apparently I could use a Hamburglar for knits, and a stack of blueberry pancakes for purls, and as long as I include a legend identifying those symbols, I'm good.
And then there's the less-silly-making-but-equally-irritating problem of charting permanent increases/decreases (ie. not the lace-kind that are eventually evened out with decreases/increases) that aren't on the edges of the chart. Do I use blank squares, or do I just allow rows not to line up right once in a while? I went for the latter, as you can probably tell, because it seemed ridiculous to have a chart that looked like a rectangle when the actual knitted object would be squished skinny at both ends. But isn't the whole point of charts that stitches should line up? Aaarrrrrgh. No, the whole point of charts is to make me very angry. Now I know.
I do want to write up this pattern, assuming that the FO doesn't look like ass – sorry, bamboo-based ass substitute – so I will have to get the chart sorted out somehow. I'll write up line-by-line instructions but honestly visual instructions are going to be much easier to follow. Or they would, if they were charted by somebody who knows what they're doing.
Glenna C says:

Ooh, charts! I have been wanting to know how to make charts. It seems like a secret and mystical thing. If you figure it out I'd be thrilled to learn, too!

2 Aug 2007 at 8:12 am



Rivka says:

From my chart experience (which is not especially sophisticated), make a square/rectangle and the width should be the number of stitches when your stitch count is the biggest and for the rows that are not that wide, put a blank square on the ends. That didn't make any sense did it?

P.S. I just finished a cabled top with Royal Bamboo and I loved how the cables looked with the yarn. Good luck!

2 Aug 2007 at 1:09 pm



Mae says:

I ventured into Romni Wools for the first time yesterday.
I felt up your Romni Wools' silk and it was luscious.
I 100% understand what you mean now about overwhelming… I fled out of there after a mere 10 minutes!

3 Aug 2007 at 11:59 pm